Non-woven Lining
are often used in clothing. These fabrics are created in a nonwoven process. The process of producing nonwoven fabrics uses air attenuated fibers that are intertangled during simultaneous fiber and web formation. The process is known as melt-blown fiber. Wikimedia Commons has media related to nonwoven fabrics.Non-woven interlining is a type of fabric used in the textile industry. It is lightweight and is used as reinforcement for a variety of garments. Non-woven interlining is suitable for garments made of cotton or other lighter fabrics. Since it does not have weft knitting, non-woven interlining is very easy to cut and set in shape.The surface properties of non-woven interlining affect its performance in various applications.
Nylon Nonwoven Interlining Series 8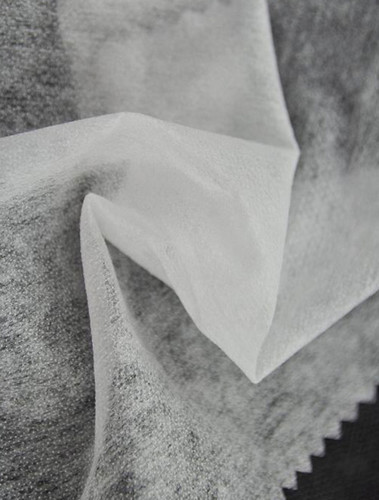 Product description:
1:This production adopt advanced double dot coating technique.It has a good performance after dry and water washing with low shrinkage.
2:It widely suits for the materials of silk,cotton,polyester cotton,polyester viscose,chemical fibers,woolen etc.
3:It is suitable for the front parts,collar,sleeve,waistband,placket,pocketing and reinforcement parts of jacket,wind coat,overcoat and suits.
Its geometrical roughness and coefficient of friction are important indicators of its resistance to mechanical stress. The two properties have a strong linear relationship. Based on these two properties, a suitable interlining is selected for various applications.Non-woven interlining is made of fibers coated with an adhesive or resin. They are suitable for clothing reinforcement and can withstand both water and dry washing. Some of the types of non-woven interlining include knits, woven fabrics, and woolen fibers. For the reinforcement of a jacket, this type of interlining can provide a lightweight yet strong lining.Interlining is an important accessory material that can influence the quality and performance of a garment and influence the purchase of the item.
Interlining is used in a variety of garments including suits and sportswear. Because of its many uses, it is an essential accessory material that deserves a thorough review and exploration.Non-woven interlining improves the look and fall of a garment. It also adds stability. For example, it helps coats and pants retain heat. It also increases the efficiency of sewing a garment. The interlining reduces stretching and makes sewing easier. In addition, the type of interlining used can determine the physical properties of the garment.Non-woven interlining is more flexible and easy to cut.
Non-woven interlining is also less expensive than woven fabrics. They are commonly made of polyamide. They range from extremely fine coating to heavier blends. Depending on the application, these fabrics are often used to make lightweight, soft fabric. However, they are not washable.When choosing non-woven interlining, it is important to select the correct type. A mismatch between the material and the desired appearance can lead to a boardness effect. Another problem is stiff hand, a result of inappropriate selection of adhesives. Insufficient adhesive or too much heat can cause the interlining to stiffen. This can distort the shape of the microfiber fabrics.