Fusible Lining
is made up of fabric backed with a glue or waterproof coating. It is used in clothing and upholstery applications. The fabric backing is made of two or more layers of different materials. Each layer can have different properties, but they overlap to a certain degree. Fusible lining is a versatile material that has many uses.Fusible linings are made from fabrics coated with adhesive or resin. The adhesive acts as a bonding agent between the fusible lining and the garment. These fabrics can be knits, wovens, or fiber webs. In addition, they have good formability, shape retention, and wrinkle-proofing capabilities.Aside from fusible interlining, printed interlinings are also available.
Soft Nylon Nonwoven Interlining Series 9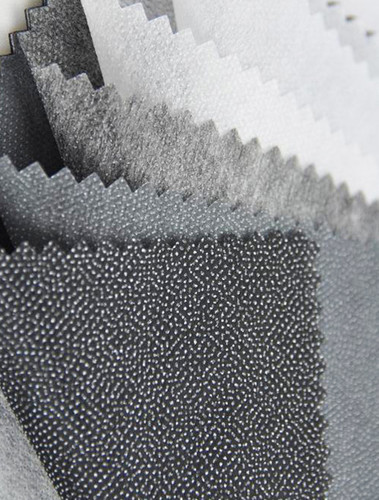 Product description:
1:This production adopt advanced double dot coating technique.It has a good performance after dry and water washing with low shrinkage.
2:It widely suits for the materials of silk,cotton,polyester cotton,polyester viscose,chemical fibers,woolen etc.
3:It is suitable for the front parts,collar,sleeve,waistband,placket,pocketing and reinforcement parts of jacket,wind coat,overcoat and suits.


These fabrics have the same hand value and mechanical properties as fusible interlinings, but are printed on the shell fabric. Compared to fusible linings, printable interlinings have numerous benefits. The main advantage is that they are less costly and faster to produce. Furthermore, they do not have the problems associated with fusible interlinings, such as strike through.Choosing the right fusible lining is important if you plan to wash your garment or quilt. Fusible lining made of polyester fabric will become ruined if exposed to high heat. It is important to follow the instructions of the fusible lining manufacturer for the best results.Fabric with waterproof coating is a great choice for fusible lining.
This type of interfacing helps to prevent fraying and gives your garment extra stability. However, fusible lining is not foolproof, as some fabrics still tend to fray after it has been interfaced.You can create a sewing project by fusing two pieces of fabric together. This method is useful when you want to create a bag with a zipper. Just line up the seams and fold the edges of the first piece to the marked lines of the second piece. Then, cut off any excess fabric.You can also use spray glue to adhere fabric to one another. Make sure that you don't get glue on the visible side of the fabric. Use a small brush or fan brush to evenly apply the fabric glue. You can also make minor adjustments to the fabric after a few minutes.Before gluing fabric together, it is essential to experiment on a piece of scrap fabric to make sure that the adhesive works well. You can use equal parts of water and glue to create a stiffer finish.
It is important to check the glue's strength before you use it, especially if you plan on pinning or stitching the piece of fabric.Fabric adhesives work best when they adhere to a clean surface. Dirt will weaken the bond over time. In addition, the pieces should be mated without stretching or folding. All materials stretch to some degree. Trying to glue a stretched piece will make the bond weak and may create ripples or stippling.There are many different types of fabrics that can be backed with fusible fabric interfacing. These interfacings can be either woven or non-woven. Both types are available in a variety of weights and can be used with different materials. For knits, knit fusible interfacing is especially suitable, as the fibers are woven together. Knit interfacing also has a grain line, so it is important to cut the interfacing in the same direction as the fabric's grain.