Woven Interlining
is a kind of lining for jackets. Its high resistance performance makes it a good choice for water and dry-washed jackets. It can also resist shrinkage. It is available in a variety of materials, such as knitted and woven fabrics. It is also used as a reinforcement material in jackets.Stiff White Non-Woven Interliner is a non-woven lining that provides structural strength to garments made of thinner fabric. Its light weight and fusible nature makes it an ideal choice for garments requiring high stiffness. Its sheer, structured drape makes it a versatile choice for many applications.
Nylon Nonwoven Interlining Series 8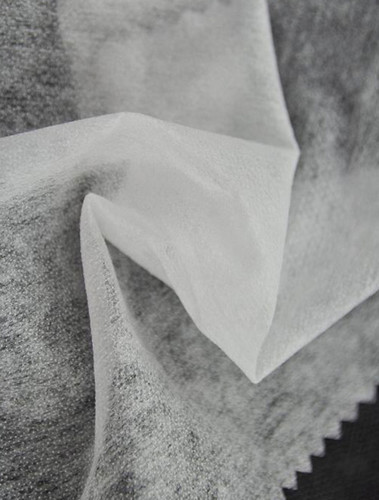 Product description:
1:This production adopt advanced double dot coating technique.It has a good performance after dry and water washing with low shrinkage.
2:It widely suits for the materials of silk,cotton,polyester cotton,polyester viscose,chemical fibers,woolen etc.
3:It is suitable for the front parts,collar,sleeve,waistband,placket,pocketing and reinforcement parts of jacket,wind coat,overcoat and suits.


This lining is 100% viscose and comes in lengths of 25 meters or 50 meters, depending on the width. It is also available in reels of 100 meters or 50 meters. The fabric is available in a wide range of weights. This interlining is ideal for beginner-level garment construction.The fabric used for interlining is usually white. It has a smooth texture and is often used on coats and jackets. This fabric is woven or non-woven and is used in the manufacturing of both lightweight and heavy-weight garments. It is used in a variety of applications, from jeans to coats. It can be either sewn into the garment or ironed on for extra stiffness and stability.
If you're considering using fusible interlining for a sewing project, you'll find that there are a variety of different types available. Some of them are lightweight and thin, while others are much thicker. All of them are useful for joining delicate fabrics and can be purchased in specialty stores. Beginners should ask an expert for help when choosing which type of interlining is right for their project.Fusible interlining is a great reinforcement for tailored products. It gives garments their shape and body, and is able to bond to other fabrics when ironed.
This type of interlining is also good for repairing holes in clothing. You can buy it in different sizes, ranging from 50 cm wide to 25 meters long.This type of interfacing is ideal for lightweight and medium weight garments. The only drawback to using this type is that it may not be completely removable. If you want to make sure that it won't come apart while you wash it, you can soak it in very hot water for a few minutes. After that, you can roll it in a towel to remove excess moisture. You can also air-dry the fusible interlining.